Voodoo Priestess Marie Laveau
---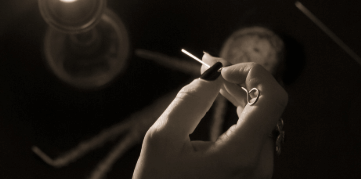 For those of you looking to increase your understanding of the mystical art of voodoo I am putting together a series of articles exploring some of the greatest and most powerful practitioners of Voodoun. I begin in New Orleans with Marie Laveau.
Marie Laveau is arguably the most famous Voodoo Priestess in history. Born in 1784 as a free woman much of her history has been mixed and blended with that of her daughter, born of the same name in 1827.
Marie was the daughter of a white doctor and a free Creole woman. She married a Haitian man in 1819 but he died a year later but she remained within the Haitian community and as her powers became more prevalent she in turn became a lady of increased significance within New Orleans.
She specialised in the healing of mysterious illnesses and her fame began to spread. What had begun as work simply for the poor Haitian immigrants soon got her noticed by people in different circles and Marie Laveau soon found herself being courted by wealthy white families, looking for miracle cures to mystery sicknesses of the day. This was a special moment in many ways, not just because it meant the first mainstream acceptance of voodoo, it was also a watershed moment for race and gender relations in New Orleans. Not only was a white family actively inviting someone from the coloured community into their house, they were listening, they were acknowledging and bowing to the expertise of this remarkable woman.
Although this is perhaps what she is remembered most fondly for her legacy lived on in her daughter, who, like myself, took the lessons of the previous generations and built upon them to gain access to even greater and higher power. Marie Laveau II built on her mother multicultural following and in 1874 performed a series of voodoo rites and rituals on the shores of Lake Pontchartrain. So great was the influence and respect these two women held in the community that it is said that over 12 thousand people came to witness the rituals. People from all walks of life brought together by the power of these extraordinary women.
Marie Laveau herself died peacefully in her home on June 16 1881, surrounded by family and many of the people she had influenced and helped throughout her life. She is thought to be buried in a tomb in Saint Louis Cemetery, and the site attracts many visitors to this day, all of whom mark the tomb with a XXX (illegally it should be said) in the hope that her spirit might grant them one wish. Whether she is truly buried there or not is a question of hot debate but she continues to live on, whether remembered in the bar which bears her name in the French Quarter or in the popular songs and movies that still reference her today, Marie Laveau continues to exert influence and is a powerful reminder of the good that voodoo can impart.
Cast Spell
---
$159
per spell
100% Success Guarantee
I guarantee I will cast the spell for you, and try with all my power and all my spiritual energy to make it work for you. That is my honest guarantee.
Cast Spell
---
$159
One time payment
100% Success Guarantee
---
I guarantee I will cast the spell for you, and try with all my power and all my spiritual energy to make it work for you.
---
Thank so much everything, and your advise is golden! Most of all I thank you for the curse removal, that truly means so much to me!
---
I can honestly say I feel so much better than I did a few months ago. I feel optimistic and happy with everything I have in life. I've even changed towards my ex which is something I thought would never happen. Instead of feeling angry and hatred towards him I feel indifferent to him. I don't care about his life I just want to Focus on me and my life. Thank you for your work with this! I've attached a picture of a time I was happily in life and would appreciate you put on your altar to enhance my spell and make me feel even more positive and happy than I am now
---
Read before ordering
---
My Spells and Curses are very powerful. Once a spell is cast, there is no stopping it. Haitian Voodoo is serious business, and very real, so please think carefully before proceeding.
Do not order a spell if you are not 100% certain you're ready for the consequences!
It may sound great to suddenly come in to a lot of money, but that can cause sudden problems with family members.
Having someone suddenly fall in love with you can be wonderful, but what will you do when they become jealous?
Getting your annoying co-worker fired by using a powerful Voodoo Curse might feel gratifying at first, but remember, he or she might have a family to feed.
---